In my last article, I wrote about storing your threads (floss) in such a way that they would remain easy to find, store and identify – to spare the frustrations of losing important shades of thread just as you needed them. Today, I'm going to focus on another challenge relating to threads – that is how to prevent and deal with tangles and knots, which is my idea of thread heaven…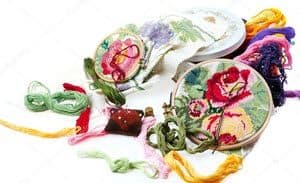 Even the most experienced stitcher will occasionally feel the thread starting to tangle. It can seem that the best way of releasing the tangle is to pull at the thread, hoping that the knot will loosen before the thread breaks. At best this is a gamble that may or may not work. And when it fails can be frustratingly tricky to fix.
Even if the knot releases itself, it is likely that the thread will be tightened and that the fabric will pucker under the strain of the frustrated tugging. The thread will be damaged and frayed if a lot of effort is required to pull the knot out.

This content is for members only.