Do you have a number of projects on the go at a time? I know I do. I have a several projects 'on hold' while I complete some Christmas cards and tree ornaments. There are some disadvantages of putting away your long term projects into cross stitch storage, however. Not least being that the momentum of my work is lost, and it takes a lot of willpower to get back into the swing of my former projects. Is it the same for you?
It's probably not a good idea to leave the supplies and parts of your cross stitch project laying around like in the picture below right…
Tips for safely storing your cross stitch projects.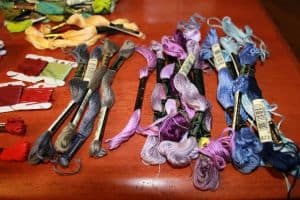 … so to avoid that, here are a number of tips for safely storing your cross stitch projects to enable them to remain in the best condition. They'll be ready for when you can return to your project with fresh determination:

This content is for members only.