Do you have a number of projects on the go at a time? I know I do. I have a several projects 'on hold' while I complete some Christmas cards and tree ornaments. There are some disadvantages of putting away your long term projects into cross stitch storage, however. Not least being that the momentum of my work is lost, and it takes a lot of willpower to get back into the swing of my former projects. Is it the same for you?
It's probably not a good idea to leave the supplies and parts of your cross stitch project laying around like in the picture below right…
Tips for safely storing your cross stitch projects.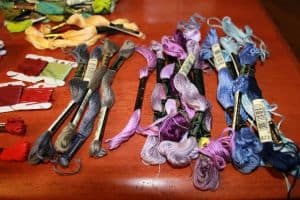 … so to avoid that, here are a number of tips for safely storing your cross stitch projects to enable them to remain in the best condition. They'll be ready for when you can return to your project with fresh determination:
1. Between your stitching sessions, store your project flat, or better still, rolled up – with your stitching facing outwards. This will prevent your stitches from being crushed or distorted.
2. Keep your project away from direct sunlight. Store it in a pillowcase or large zip-lock bag to keep dust-free. A dry, sealed container will prevent visits from moths.
3. If you use an embroidery hoop, remove your project from the hoop between stitching sessions. If you use a tapestry frame, then either loosen its side bars or remove the bars completely. You can roll your stitching around the rollers during storage. Never fold your project. This may leave creases that are difficult to remove.
4. Never leave a steel needle in your work. Any moisture will cause the needle to rust, and this will stain the fabric. Either use gold-plated needles, or park your needles at the edge of your stitching. A more recent alternative is to make your own magnetic cross stitch needle minder. These are also known as a needle knack or needle nanny. As its name suggests the needle minder neatly stores your needle when not in use. This useful little tool is reusable and can be highly decorative as well.
5. Store every item you need for your project in one place. Keeping threads separately – or the chart (pattern) – in a separate drawer may result in confusion or loss.
An alternative cross stitch storage view
Here's a short (3 to 4 mins) YouTube video showing an alternative idea using storage tubes to provide safe cross stitch storage and protection for your projects, whether they are 'on hold' or your stitching is completed: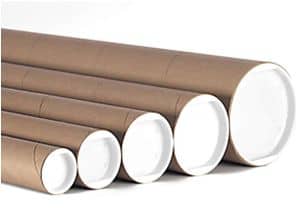 A tip here is to make sure everything associated with the project, including the pattern/chart and any notes you've made, all goes inside the tube alongside the stitched piece and supplies.
You can buy these postal tubes, or tube mailers from Fedex, Amazon or you local Packaging Supplies store, and of course they're re-usable.
Also, because of their shape, tube mailers are strong and durable. They're light in weight, easy to store and have a multitude of uses around your home.
…finally
The key here is to be focused and make sure everything is kept together. Thus ensuring, if you store your project safely, it will be well protected and a delight to return to.
I hope you enjoyed this article and found it useful. I'd love to hear from you with any tips of your own on safely storing your cross stitch projects. I always reply to all comments.
Click here to check out storage products for your cross stitch projects on Amazon
Happy Stitching!
Scarlet, "In the UK"
(Visited 63 times, 1 visits today)