If you are new to the world of needlework and embroidery crafts, you might consider trying counted cross stitch. Cross stitch is a popular form of counted-thread embroidery in which you use x-shaped stitches to form a picture. It is called counted cross stitch because the stitcher counts the threads in each direction so that the stitches are of uniform size and appearance. It may sound a little complicated but, believe me, it isn't. To get started, you'll need a few counted cross stitch supplies…
What counted cross stitch supplies do I need to get started?
Good question, which we'll cover in the rest of this article. However, here's a short (2 mins) video from YouTube that shows you everything you need to get started:
OK! If you've watched the video, we'll fill in some of the blanks for you below.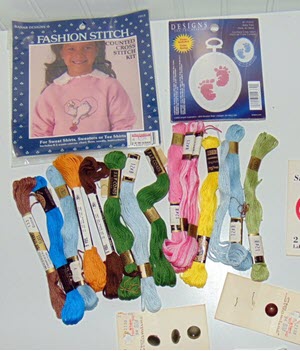 Learning how to become proficient at counted cross stitch is not difficult. But it can be quite hard to get to grips with all the terminology involved in the basic counted cross stitch supplies.
It can often seem like a foreign language to a beginner. First you need to get to grips with the supplies needed in order to complete a piece of counted cross stitch work.
You actually need very little equipment to get started with cross stitch. This is why it is the perfect introduction for someone who is new to needlework. You can try it out for very little money to see if you like it.
This is also the reason why many newly initiated sewers often practice their stitches on a cross stitch sampler.
In general, cross stitching requires that you use fabric, threads and needles. This is the basic formula of supplies needed.However, there are several different variations of each supply, which also work and give each different cross stitch project their own unique appearance.
Fabric
Most cross stitchers use a thin white cloth called Aida to sew a cross stitch design on although other fabrics can also be used, as long as they are even-weaves. The main requirement that stitchers stick too is to use even blocks that measure 2.5cm in all directions.
This is the most basic requirement for cross stitching. However, you have the option to use higher and lower thread counts, which increases or decreases the amount of stitches that it takes to complete the work accordingly.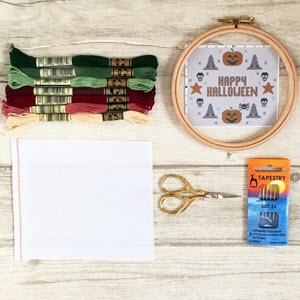 If you do decide to use a higher thread count this will mean that the fabric is finer with the holes closer together.
Be aware that this is the sort of material that should only be used by people who have experience with embroidery.
If you are beginner it is best to stick with Aida. This is because the thread count is basic and each block is evenly placed, making the whole process a lot easier.
This material can come in many different colors, although white is the most common color to use for this purpose.
If you are looking for a different sort of material to experiment on, try using other even-weaves such as cotton, modal and linen, again you can get these in many different colors.
Threads (Floss)
When it comes to thread and cross stitching you can use any sort but cotton is the most popular choice. The most popular form of cotton in cross stitching is stranded cotton, known as floss.
Additionally, you can sometimes use metallic and other blended filament threads to create a special effect on the fabric.
Needles
You can get special tools in cross stitch kits. But all you really need is a needle, a pair of scissors and frames. The best needles to use for counted cross stitch are blunt tapestry needles. This is because the eye is slightly larger making it easier to thread your needle. While at the same time, the blunt point is kinder to your fabric, i.e. It doesn't tear the fabric's strands.
The most popular needle sizes are either size 24 or 26. The size differs depending on the type of fabric you are using and your personal preference.
Counted Cross Stitch Supplies: What else?
Your scissors need to be sharp and designed specifically for sewing and not just household scissors. Frames are not an essential part of counted cross stitch but they often make it easier to complete the design. This is because they stretch out the design and help flatten out each stitch.
You don't need lots of supplies to get started with counted cross stitch. Once you've got going it will provide you with hours of entertainment, why not give it a go!
Finally…
Did you find this article helpful? Are you a little clearer now as to what equipment you need for cross stitching, or do you already have the basics of thread, needles, and fabric?
I'd love to hear what experiences you've had when first starting cross stitch. I answer all emails received, so if you've any stories, comments, or questions – please feel free to send them this way.
Click here to check out the latest counted cross stitch supplies on Amazon
'til next time – believe in yourself.
John