Using cross stitch hoops (or frames) when you embroider is often considered to be essential. I have a small collection of hoops of different sizes, and every now and again I use them.
My largest hoop is too big to place among my general stitching stash, so it sits on a shelf, like a huge halo. I know that stitching experts are divided as to whether or not we should use hoops – so here are the reasons for and against…
What are the advantages of a cross stitch hoop?
Most books on cross stitch list the hoop as an important part of the stitcher's equipment, often placed alongside needles, fabric and threads in its importance. The reason for this is generally given that the hoop holds the material taut while you are stitching – and therefore helps you to produce even stitches.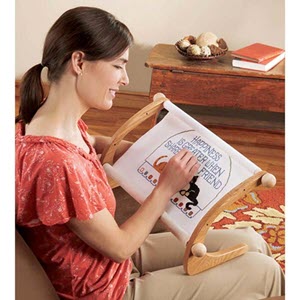 Additionally, if you have any sort of mobility problem that affects the fingers or wrists, using a hoop, frame or a special lap-frame or table-frame can help to minimise pain, and deterioration of the condition.
If you have a lap-frame, this can free your hands so that you can use one hand above the frame and the other one, below, so that you simply pass the needle from one hand to another through the fabric. This eliminates that swinging movement that is made when you are making stitches.
Stitchers who never use a hoop include the great Jane Greenoff and Shirley Watts. Jane asserts that she prefers working with her cross stitching in her hand as it allows the sewing action to take place without hindrance.
Shirley adds that a hoop can be cumbersome and can easily leave snags or stretch marks on the fabric. She also enjoys feeling the material scrunched in her hands. It is clear that when you see close-up photographs of their work that their stitches are beautifully even.
Choice of Cross Stitch Hoops?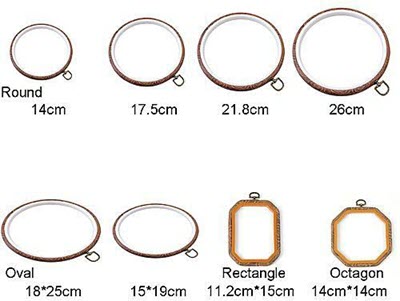 Nowadays hoops don't have to be round in shape. You can get rectangular, square, oval, and even octagonal shaped hoops.
If you do decide to use a hoop, how can you get the best from it? Hoops have two rings, one with a fastening. You sandwich the fabric between the rings, and adjust the fastening to keep it tight. To prevent any damage to the fabric, you can wrap the inner ring with tissue paper or cotton tape (see our video below).
If you prefer, you can use an interlocking bar frame for small projects and a rotating frame for larger pieces of work. You should never place the hoop directly over an area of stitching, because you can pull and distort the stitches. It's also essential to remove the hoop after each stitching session, so that marks and creases are not permanently formed.
…Finally …
Here's a fairly detailed video tutorial (8 mins) showing you how to use a cross stitch hoop. It also shows you how to wrap bias binding around the individual rings to protect your fabric when using a wooden hoop:
Note: The measurements Sarah gives you are all metric, where 1 inch = 2.5 centimeters. 
Note: The bias binding Sarah recommends can be bought at dressmaker shops and/or haberdashery stores. Alternatively, click here to get it from Amazon.
Click here to check out the latest cross stitch hoops available on Amazon.
I hope you found this video about using and wrapping an embroidery hoop both interesting and useful. It's made me wonder just how many stitchers actually use a hoop or frame.
My personal preference is a hoop for small projects and a table frame for larger pieces. There was a time in my early stitching career when I had regular problems with knots and tangled masses (caused mainly by my impatience at the time, I think).
I overcame this by using a hoop or frame, which gave me the use of both hands. This seemed to buy me the time to more easily resolve the mess I had gotten myself into.
I hope you'll consider sharing your experiences with us, in the comments section below. Whether they're good or bad, I answer all comments left.
So, if you've any cross stitch questions and/or or stories, please respond below or email me (janis@patternspatch.com).
Love your stitching – love life!