Native American Cross Stitch: A Great Heritage YOU Can Be Proud Of!
The Native American people are proud of their heritage and of their ways. They have endured many tragedies throughout history, but they have stood strong and not turned their backs on those that went before. It is because of their strength and heritage that many companies have designed Native American cross stitch charts to honor these indigenous people.
You can stitch many striking native american images, especially of warriors and wolves, in fine detail as a cross stitch pattern…
National native american heritage recognition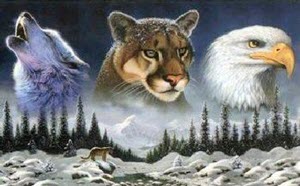 The month of November is a time to celebrate rich and diverse cultures, traditions, and histories and to acknowledge the important contributions of Native people. At this time, tribute is paid to the rich ancestry and traditions of Native Americans. Moreover, in 2008 President George W Bush designated the Friday after Thanksgiving as Native American Heritage Day.
Traditional Colors
When it comes to colors, Native American patterns largely feature the earth tones. These colors include: brown, grey, tan, green, and yellow. However, depending on which tribe the patterns are based upon, you might also get red, blue, and purple. Most, if not all, will have elements of nature and animals such as native american wolf images, as well as native american warrior images.
Popular Themes
Spirituality is very important among Native Americans. Because spirituality was such a part of their culture, many of the patterns you find will include forms of prayer. Their belief being that the animal spirits affect their daily life.
This explains why there are often wolves, eagles, and bears in these native american charts.
Other components you might find in Native American stitching  patterns are historical figures, dancers, dream catchers, and examples of pottery.
What do you do, however, if you have in mind a certain image, but can't find a suitable pattern?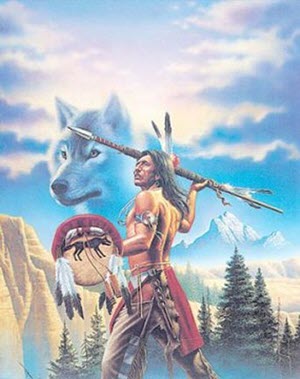 You may be able to create your own pattern with software that creates a cross stitch pattern based on a photograph that you provide.
PC Stitch, Ursa Software, and Hobby Ware's Pattern Maker are all examples of this type of software.
If you own an image that you'd like to convert to a cross stitch chart, you can make use of  DMC's Snap & Stitch service for converting digital photos into cross stitch charts.
If you'd like to read our in-depth review of this service, click here.
Searching for native american cross stitch charts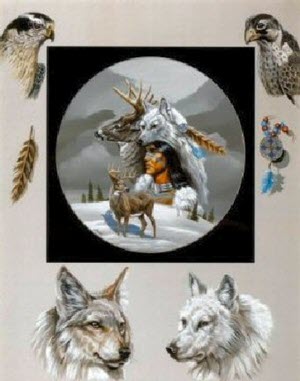 If you are looking for Native American Wolf Images – type into google: "Native American Wolf Images" or if you are after Native American Warrior Images then type in "Native American Warrior Images.
From there, to check and see if there is a cross stitch pattern available do the following: start a search using Google, Yahoo, or some other search engine, and search the phrase "Native American cross stitch" or "Free Native American cross stitch patterns". In either case, there should be many pages of possible websites for you to check out.
Perhaps you've found a pattern and graph you really like while you were surfing the internet. You may not be able to purchase the pattern at a local craft store, so be prepared to buy it from an online supplier. Often the pattern can be purchased separately, or possibly as a kit where all of the thread and the fabric is included. Generally, shipping charges aren't expensive, and you should receive it in less than two weeks.
Choosing your subject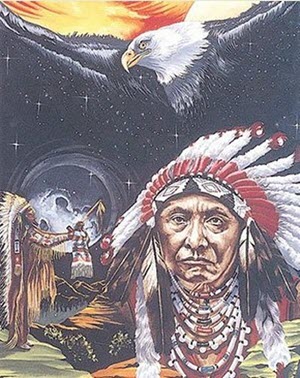 Deciding on a subject for your Native American heritage stitching project is a very personal matter.
There are patterns and kits for nearly every topic under the sun. If your interest lies in native american patterns, you're in luck. The wide range of charts available today are beautiful and will give you an incredible finished piece of cross stitch art, thus continuing our national heritage through cross stitch art.
When you want cross stitch patterns for Native American heritage, whether they be from Warrior Images to Wolf Images, check out our range of FREE Cross Stitch patterns at Patterns Patch.
Did you find this article helpful? Have you still to stitch a native american pattern? Or, if you can already tick that box, I'd love to hear what experiences you've had when stitching your own native american cross stitch chart. I answer all emails received, so if you've any stories, comments, or questions – please feel free to send them this way.
Click here to check out the latest Native American Cross Stitch products on Amazon
'til next time – believe in yourself.
John