Today, I visited Karen, a friend of mine who has recently suffered from sight loss. One of the first things she said to me was, "Whatever else you do Scarlet, take good care of your eyes! I didn't …".
Fortunately, she can still see strong colors and shapes, and she uses this ability to continue her cross stitching. Instead of using traditional patterns and equipment, she now uses Binca, a fabric that has a low hole-count, and also can be felt easily with your fingers as well as seen.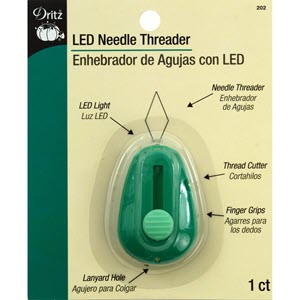 Although Karen now only uses strong and contrastive colours – hey presto… she completes great projects. I feel humbled to think that her stitching is often neater than my own.
With this in mind, I have drawn together a list of six considerations to protect your eyesight, prevent eye strain and to make stitching easier.
There is a huge amount of excellent advice on Google when it come to taking good care of your eyes when doing any kind of close up work.
Six Considerations for Protecting your eyes
Here are my 6 recommendations for you to consider when doing needlework:
Firstly, use light wisely. When stitching during a bright day, sit with your back to a window if possible. The sunlight will stream over your shoulder and onto your stitching.
Secondly, use a needle threader. Always! This can prevent a lot of frustration. You can get one that has a built-in light (like the one above).
Thirdly, have regular eye tests and make sure that if you wear eye glasses, they continue to be the correct prescription for your needs.
Above all, invest in a good Daylight lamp with magnifier. There

Good lighting and clear vision are so important.

are many to choose from, and the best can be expensive so consider putting one on your Christmas present list. Of course, you can use one for reading, writing and other crafts as well as stitching. For economy, consider replacing the bulb of a regular table of angle poise lamp with a Daylight bulb.

Take your eyes off your work every few minutes when you are stitching. Focus on a distant object for a minute or too. You may care to stretch your legs at this time too.
Use clear patterns/charts. You may notice that some are small and difficult to see in magazines. You may need to enlarge these via a photocopier. In contrast our own patterns/charts are very clear at Patterns Patch. You can enlarge them to the size you require onscreen.
A recommendation
My hubby glanced over my shoulder as I was writing this and remarked that many years ago during a summer recess when he was a student, he'd worked the graveyard shift doing printed circuit board work on a production line. All the operatives had one of these daylight magnifying lamps. "They were brilliant!", he said, "None of us had had any eyesight problems at all. You should get one.". Hmm! … I've a birthday coming along shortly!
And finally, a plea from me: you only have two of them so PLEASE do to take care of your eyes. Your eyesight is so precious.
Did you find this article helpful? Do you have an alternative method for looking after your eyes when you spend time cross stitching? I'd love to hear what works for you and what experiences you've had when stitching for a couple of hours or more. I answer all emails received, so if you've any stories, comments, or questions – please feel free to send them this way.
Click here to check out the latest daylight magnifying lamps on Amazon
Happy Stitching!
Scarlet "in the UK".