A very old and traditional stitching technique is that of either creating a pattern by fastening beads to fabric by stitching or simply weaving tiny beads together. Peyote stitch patterns have been around for a very long time. The Egyptians created burial garments using these patterns over 4,000 years ago! The practice of creating patterns using this ancient technique got its name from the American Plains indians who created beaded items for their ceremonial prayer meetings.
The peyote stitch is a creative combination of the older African traditions and Native American traditions with current crafting trends to create an original and unique stitch. The versatility peyote stitch patterns provide make the peyote stitch an excellent choice for variety and interest in many different craft projects including jewelry, accessories, apparel and even small framed pieces used when decorating.
What is the range of Peyote Stitches?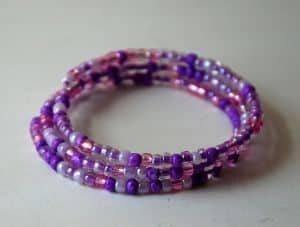 Nowadays beaded jewelry, such as necklaces, earrings and bracelets are often made by following peyote stitch patterns. Fortunately, the beader is not limited to only flat pieces of work. It is possible to create three dimensional items by working around an object, such as a cardboard roll or bottle, known as a "form". A variation called tubular peyote stitch is used for these projects.
The different types of peyote stitches include:
odd count flat peyote,
even count flat peyote,
flat round peyote,
odd count tubular peyote,
even count tubular peyote.
Peyote stitch patterns have become the most popular among contemporary beadworkers. The technique is simple but can be confusing for beginners. This is especially the case when it comes to following the pattern, which can seem puzzling. The work progresses in an zigzag manner with each alternate bead belonging to a different row of the pattern. If you count your rows on the diagonal, it will help you find your place on the graph.
What types of beads can I use?
The beads used in a peyote stitch pattern are glass seed beads which are available in several different sizes. To add contrast to a necklace you can have fun creating "beaded beads" which involve using a larger wooden bead as a base and stitching the seed beads around it in tubular fashion.
It isn't always necessary to follow peyote stitch patterns. You can just start stitching and change colors as and when you desire. Successful designs can always be drawn by hand or on a computer program such as the Easy Bead program from Easy Bead Software when you are finished. If you are artistic you could design your own patterns before starting to stitch, perhaps including simple animals or flowers in your creations.
By their very nature and adaptability, you can incorporate beads into other craft techniques. You can knit with beads, add them to a crocheted piece or incorporate them into your cross stitch designs. You can also combine multiple bead stitches in one project. However, you should build up your confidence in following the peyote style of stitch patterns first.
Because of the beading, stitchers mostly use peyote stitch patterns in the design of jewelry and other small items. These include items such as small handbags, gloves, scarves, sweaters, and so on. In jewelry, you can create large bead formations, known as wonder beads or super beads, by combining several smaller patterns together.
Peyote stitch patterns look similar to counted cross stitch patterns and use the same grid patterns. You can convert many uncomplicated cross stitch patterns into peyote stitch patterns. However, just to reinforce that, due to the complex nature of using beads the patterns must be kept straightforward and easy.
Where can I find peyote stitch patterns?
Many different craft books discuss the peyote stitch pattern. Bead & Button Magazine published "Best of Bead & Button Magazine: Peyote Stitch Beading Projects" that not only gives detailed instructions on the various stitches but also has 18 different jewelry patterns for lariats, necklaces and brooches. It also has many different versions of the wonder beads or what the book calls "beaded beads".
Almost all of the projects in "Beaded Pictures: Charts and Instructions for Beadweaving" are made using the peyote stitch and have been submitted by regular crafters. The book not only offers detailed patterns, it also shows readers how to create their own peyote stitch patterns and create something unique. It has many different type of patterns, including animals, floral, geometric, season and people.
"Knitting with Beads: 35 Beautiful Sweaters, Scarves, Hats and Gloves" details many different beading projects.  The main peyote stitch project features a peyote stitch tunic marked as the most challenging project in the book.
A book that ties back to the Native American tradition with the peyote stitch pattern is "Native American Beadwork: Projects and Techniques from the Southwest."
"Creative Cloth Doll Making" is a book that shows how to combine the peyote stitch beading with other craft techniques.
There are many different ways to include peyote stitch patterns in different types of craft projects. These include: cross stitch, jewelry, apparel, accessories and some small framed pieces.
In summary
If you're up for a challenge, why not let peyote stitch patterns open up a new world of creativity.
If you enjoyed this article, or have an interesting tale yourself, I'd love to hear from you. I answer all emails received, so if you've any stories, comments, or questions – please feel free to send them to me ([email protected]).
Click here to check out the latest Peyote Stitch books and patterns on Amazon
'til next time – believe in yourself.
John