This article is NOT directly related to Cross Stitch, But, you know what? Stitchers, in the main, are well-rounded, intelligent people with all sorts of different interests, some of which they get excited about. Especially when it lets you follow your passion.
Most people generally feel happier and more content when doing, watching or reading something that really catches their attention and interest. So, we decided to give you an article on how to first discover and then follow your own passion…
Imagine having to clock into a job daily that you hate; perhaps you already do. The work is mundane, the commute is long and your supervisors are careless. Do you, or would you, enjoy waking up every morning? I certainly didn't when this applied to me.
Why Settle For Mediocre?
While we all have to make money to survive, we equally deserve to feel fulfilled after completing a hard day's work. Sure, we may receive a paycheck at the end of the week, but, does that really make up for all of the unhappy moments? Surely, the answer to that question is a resounding "NO"!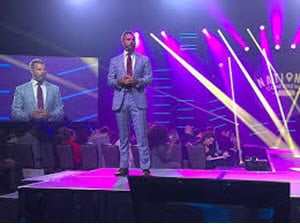 Many blogs, books and articles are dedicated towards helping people find their passion. In fact, the self-help community is worth billions of dollars. This statistic alone proves that people all over the globe are searching for a life of purpose. Individuals who are unhappy in their jobs are especially susceptible to soaking in as much information as they can on how to improve their life.
In order to really live a life of fulfillment and walk in your truth, you have to follow your passion. You must have passionate belief. Although this sounds like a far-fetched idea, it's actually quite attainable. All you need is a willing attitude, a bit of determination and a positive spirit.
Those, along with consistent hard work will help you live a life of passion. We'll consider how, but first take a look at this short (4 mins) YouTube video "Follow Your Passion", which has more than one million views:
Determine Your Passion
In order to discover your passion, do you know what your true interests are? If you want to start living a more fulfilled life, you must identify what drives you. Ask yourself, what activities give you excitement and arouse your passions? Do you find yourself daydreaming about any particular fields of interest? What motivates you to get up in the morning?
The underlying answers to these questions will help you determine what your passion truly is. Once you uncover that, you'll be able to make the necessary steps towards achieving it.
From an early age my own passions were sporting and food (to which my waist line will readily attest). With passions like that, how do you wind up running a cross stitch website  – and loving every minute of it? I oftentimes ask myself the same and still end up scratching my head in search of the answer – just one of life's many mysteries I guess.
Since we're a cross stitch website, if you're not already an active stitcher, why not give it a try? It always surprises me a little just how many people develop a real passion for cross stitching when they decide to give it a try
Discover Your Passion
Maybe your passion is to become a chef. Before you blindly pick up the pots and pans, learn your craft. Study from the greats and imitate their actions. Read and soak up as much information as you can on your particular interest.
This will help you improve your skills and train you to the be the best. Then, you're more likely to find employment or start a business revolving around your passion. Remember, you can have a dream all you want, but, it takes practice and hard work to turn it into a reality.
Moving Forward
After you've determined your passion and gathered enough information about the topic, now it's time to put your work to the test. Take the necessary steps towards changing your current position and landing that dream job.
Take up an internship or shadowing job. Perhaps change your resume to reflect your new venture. Then, begin applying for the jobs that'll get you one step closer to your passion. When you put in the necessary work, it's imperative that you get out of your comfort zone and really try to find your place. This will help you to lay the foundation for your future career.
To follow your passion will make you a happier and more fulfilled person. Although we've focused primarily on employment, developing your passion doesn't have to be within a job. If your passion is to be a better artist, person or writer, then follow those dreams even if they're just for your own personal development.
One of the best pieces of advice one could hear is to do everything with passion. From the smallest gesture to the biggest action, acting with passion will make you stand out in the crowd. in turn, you cannot help but live a happier, more fulfilled life.
Did You Find This Article Interesting?
Did it make you think at all? To become happy and fulfilled, do you need to do something about your own situation? Or do you already follow your passion? I'd love to hear what experiences you've had in discovering and developing your own interests and passions for life. I answer all emails received, so if you've any stories, comments, or questions – please feel free to send them this way.
Click here to check out the latest 'follow your passion' products on Amazon
'til next time – believe in yourself.
John