"Welcome to

Patterns Patch

"
A FREE Membership Site For Cross Stitchers
Come And Join Our Family Of Passionate, Fun-Loving Stitchers.
To celebrate the relaunch of Patterns Patch we have created a free membershipsite for you to help all cross stitchers enjoy their stitching passion. Our cross stitch
patterns, articles, stitching guides, tips, news and reviews are – ALL FREE!
Interesting! So What's In It For Me?
Good question … to see how membership of Pattern Patch will benefit YOU, please continue reading. Instructions for joining are given below, or you can click the JOIN link above.
It's a well-known fact that nowadays we are all living busier lives, which makes it all the more important for each of us to find some 'me-time', in order to re-charge our batteries. To do this, we need to find a sanctuary where we can turn off the pressures of life for a while. For me, and so many fellow stitchers, cross stitch fulfils that function and gives us the 'space' we need…
It's exciting times because, with the growing interest in cross stitch worldwide, there's never been a better time to join a progressive, forward looking, dedicated cross stitch membership club.
We at Patterns Patch want to be that club and aim to provide you with information, support, friendship and lots of fun and stitching pleasure whenever you visit.
Great Membership

Benefits
OK, here's what's in it for you. Some of the many benefits of being a Patterns Patch member are obvious, others less so. One thing you can be sure of is the benefits will continue to grow throughout your membership.
​
Here's some of what we have for you, from the day you join:
Cross Stitch Patterns
Enjoy our extensive, and growing, gallery of quality cross stitch patterns covering a wide range of topics. As a member these are yours to download FREE!
Cross Stitch Articles
We continue to grow our ever increasing library of interesting reads, including stories from the past, stitching tips, tutorials, How- tos and more.
RSS – Latest Stitchers News
Get the latest breaking cross stitch stories, news and reviews, gathered from around the globe through our RSS feed – updated in real-time. Only available to you as a Bronze (Free) member.
Cross Stitch Facebook Group
Our long-standing – closed – FB Group is for members only. Members will have access to all the content, plus upcoming chat, forum activities, and competitions– a great way to make new stitching friends.
"There is always something new to learn, and here at Patterns Patch is the perfect opportunity–with articles, tutorials and very knowledgable members. But the thing I enjoy most is making stitching friends! A friend is a GOOD thing!!!" ~ Victoria Lane / Seattle, WA
YOUR ONLY STITCHING DILEMMA IS WHICH OF OUR STUNNING patterns TO STITCH NEXT!
Our extensive range of 300+ beautiful cross stitch patterns have all been designed in-house – you cannot get them anywhere else!
​
We cover many topics, from Ageless Classics to Wild Animals, Native Heritage to Religious Belief, Angels & Unicorns to Stunning Scenery. and Magical Mystery to Seasonal Festivities, and more.
Our most popular patterns are drip-fed into the members area and can be freely downloaded when we make them live.
You can check what is in our Patterns Gallery by clicking on the More button below.
WE have articles galore to entertain you when taking a break between stitching sessions.
You can use our huge range of unique articles (more than a thousand in our database) for both your entertainment and education.
Our articles are carefully researched, written and edited by experienced cross stitchers, who are native English speakers from the US, UK & Canada.
​
We cover a mixture of topical news, cross stitch stories, tutorials, products reviews, and topical themes.
You can check out the content in our Articles Library by clicking on the More button below.
What Others Are

Saying
"
I have been a regular reader of Patterns Patch web site. What attracted me in the first place was the quaint name….
Another plus factor is their prompt replies to any queries I may have, in fact my most recent one, which is where can I find Florentine embrodery – specifically with regard to a bible cover I would like to do…".
Barbara Perkin
/ Cape Town, South Africa
"
I enjoy every aspect of it. The Articles are always interesting and informative as well as the tutorials are very helpful. I also enjoy the forum very much.""I have no real cross stitching friends and I feel very fortunate to have met all of you. John is very helpful with what ever the issue is.".
Jeanne Beachum
/ Marshville, NC
"
The free downloads here are beautiful and they aren't just tiny cutesy designs (if that makes any sense)!""I have to agree that the sense of "family" and "togetherness" on the board here is awesome! I've come here with problems both stitch related and general … and everyone was so warm and caring and encouraging. It was wonderful to have somewhere to turn!"
Sandye Corcoran
/ Philadelphia, PA
"So! At this point you might be thinking, "This sounds great, but who are these people?".
"Let Me Introduce Myself."
MY NAME IS…Janis Applegate
… and together with my friends John and Scarlet we are the people behind this website. Scarlet and I are both vastly experienced stitchers, while John … knows one end of the needle from the other!
As a seasoned cross stitcher and author of the best selling book "Cross Stitch Made Easy", I share with you insider information, unusual facts, and shortcuts to better stitching.
I'm a regular writer for cross stitch publications and will be creating regular blog entries especially for you; together with my friend Scarlet and the occasional guest writer. At times I will be gently challenging you to broaden your stitching horizons and stitch outside your comfort zone!
Read Our Latest​

Blog Posts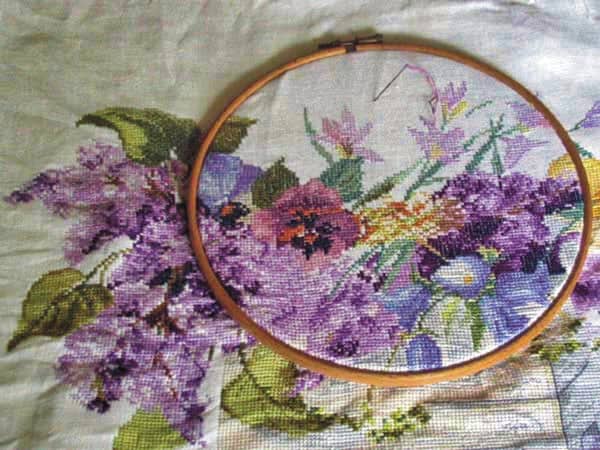 long-arrow-right
Magnolia Cross Stitch: Five Years and Five Continents, Completed at Last…
"Never again," I said to myself over and over. I must have been out of my mind when I chose Majestic Magnolia, a gorgeous cross stitch design I simply couldn't resist.
It didn't matter to me that I was still a beginner and I had never stitched on linen. I thought I could tackle any project. Today, it's my crowning achievement, one that […]
long-arrow-right
WHY It's SO Important To Take Care of Your Eyes When Stitching.
Today, I visited Karen, a friend of mine who has recently suffered from sight loss. One of the first things she said to me was, "Whatever else you do Scarlet, take good care of your eyes! I didn't …".
Fortunately, she can still see strong colours and shapes, and she uses this ability to continue her cross stitching. Instead of using traditional patterns and equipment, she now uses […]
long-arrow-right
Cross Stitched Picture – Created From A Favorite Photo – A Patterns Patch Review.
Have you ever wondered what it would be like to create a cross stitched picture from your favorite photo or digital image but didn't know how, or perhaps believed it was either too difficult or too expensive? You have!
Well! Wonder no more because now you can – easily, cheaply, and by yourself … online!
[…]
Join Patterns Patch… It's FREE
Enjoy an ever-growing list of cross stitch articles, reports, tutorials, and reviews

Access to valuable, in-depth cross stitch books and reports at 60% off list price

Get the latest breaking cross stitch news and stories from our Feedspot RSS feed

Make new stitching friends in our chat room/forum/facebook group.
… and FREE counted cross stitch charts and patterns every month!
You can unsubscribe at any time.
PS. This really is the best time to be joining our cross stitch club because, when the membership reaches a certain level, we'll be closing the doors on free membership!
Copyright © Patterns Patch Publishing. All rights Reserved I ​Privacy & Terms Of Service