How Do You Do That?
Have you ever wondered what it would be like to cross stitch your favorite photo but didn't know how, or perhaps believed it was either way too difficult or too expensive?
You have!
​Well! Wonder no more because now you can – easily and cheaply.
Early in 2018, DMC launched their Snap & Stitch service for converting digital photos into cross stitch charts.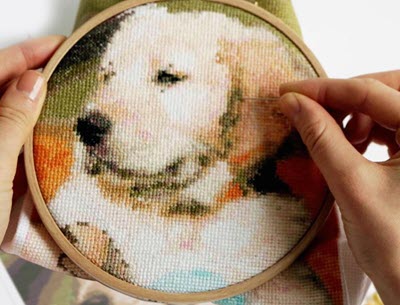 Interesting! – How Does It Work?
Like most good ideas, it's actually pretty straightforward.
You simply upload a digital photo you own to the DMC server and answer a couple of question so DMC knows what you want.
NOTE: DMC Will ask you to confirm you are the copyright holder of the image or photo you will be uploading. DMC needs to protect itself from plagiarising someone else's work.
As soon as they have your answers, DMC will convert it into a cross stitch pattern for you. You then download the completed pattern as a PDF, from which you can print out a hard copy to do with as you wish.
But that's not all because in addition to the pattern, they'll add in the shopping list of materials, detailing exactly which threads you'll need and the total length of each thread.
By now you're probably thinking, "This is great, but surely there's a charge for using this service?" The answer might surprise you because it's, "There might be…". You see if you order the threads from DMC, then they'll waive the charge for the pattern and list of materials – you'll get them for our favorite price – nothing, zilch, nada – free.
​
This is such a personal and thoughtful gift for a DIY-er. Price: $10 or free when you buy the required thread from their website
Check out their new service here, and you too
Converting Your Photos Into Cross Stitch Patterns
Turn your photos into cross-stitch charts – Simply upload your photo, test a combination of sizes and colours and buy your chart or receive it for FREE when you buy all required thread!
All Cross Stitchers will get a kick out of stitching their favorite photo.
https://www.dmc.com/us/convert-photos-into-cross-stitch-charts-9004642.html
​Insert Custom HTML