Have you ever thought to yourself, "Wouldn't it be great to create cross stitch pictures from my favorite photos?". You have!
Well! Wonder no more because now you can; quickly, easily and cheaply.
Early in 2018, a new online service, from a leading needlework thread manufacturer, was launched  that would satisfy the wishes of cross stitchers far and wide…
However, let me start at the beginning. Before we knew about this service we'd often look at a photo and wishfully think, "This would make a great stitched picture, I wish there was an easy way to get it turned into a Cross Stitch pattern.". Well, now that this service has come along, we decided to check it out thoroughly.
We decided to take a closer look
You can find the service online at:
https://www.dmc.com/us/convert-photos-into-cross-stitch-charts-9004642.html
Click on the link and this is what opens:
There's only three steps in the process, the first of which is to upload a photo. OK, we need to find a photo. We decided to choose something small, containing quite a lot of detail, and with different focal lengths in the photo.
We wanted to have a method of measuring how accurate DMC's software is at recreating the original picture. This led us to choose the original photo from one of our own cross stitch charts, "A Cheetah's Mask".
The reason being, we think our patterns are pretty good, but if the DMC Snap & Stitch service produces something better, we'd need to perhaps think again. You can be the judge since we're featuring all of the relevant pictures throughout this article
The needlework thread supplier was DMC and their Snap & Stitch Chart Conversion Service transforms digital photographs into cross stitch charts.
They made this tool available to anyone with an internet connection and made the service both easy-to-use for online newbies and low-cost as well. In fact you can get your actual cross stitch patterns for our favorite price (zero dollars). We'll tell you how.
Before now  the problem was you perhaps didn't believe it was even possible to convert a photo you own into a cross stitch pattern. Because it was probably either too difficult or too expensive? Let me tell you, this is no longer the case.
I'm interested, tell me more
Early in 2018, DMC launched their Snap & Stitch service for converting digital photos into cross stitch charts.
How Does It Work?
 It's nice and easy to use. You simply upload a photo you own to the DMC server. DMC will then convert it into a cross stitch pattern. 
As well as the pattern, they'll add in the shopping list of materials, detailing exactly which threads you'll need and the total length of each thread.  
This is such a personal and thoughtful gift for a DIY-er. The price for the pattern in PDF format is $10. However, you can get it for free if you buy, at the time of purchase, the required threads from the DMC website
Check out their new service here, and you too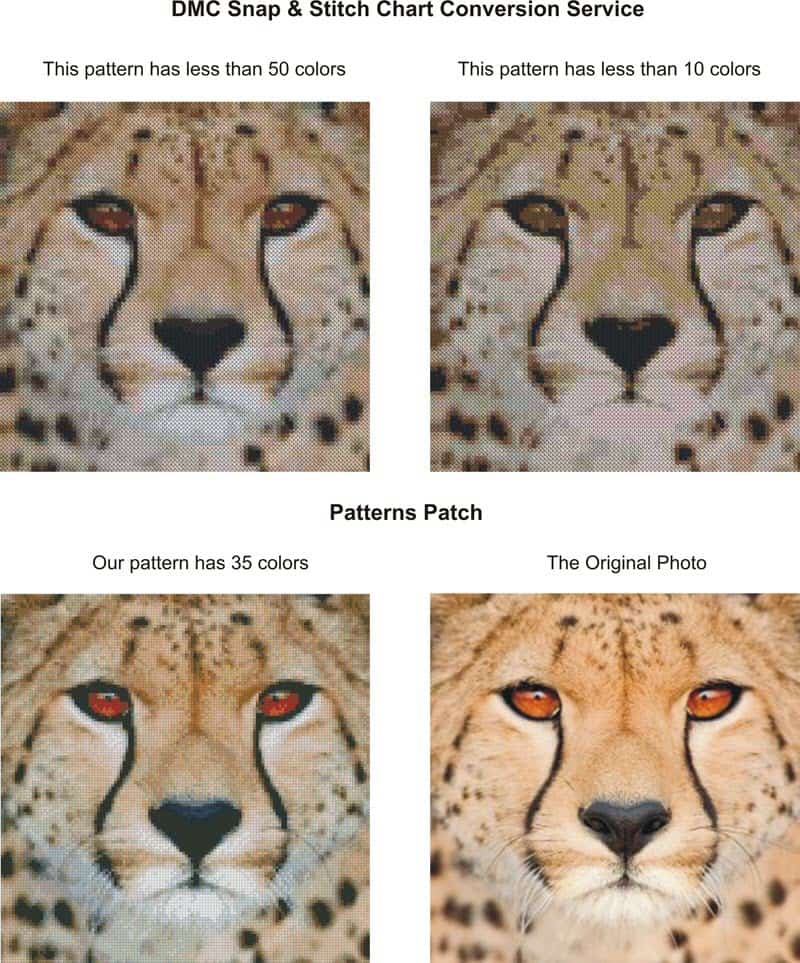 How do I use this service?
To turn your photos into cross-stitch charts – Simply upload your photo, test a combination of sizes and colours and buy your chart or receive it for FREE when you buy all required thread. Or you can buy the pattern, together with its shopping list, from DMC (the price was $10 at the end of 2018) and provide your own floss.
https://www.dmc.com/us/convert-photos-into-cross-stitch-charts-9004642.html
​Summary
We think All Cross Stitchers will get a kick out of stitching their favorite photo(s).
If you enjoyed this tale, or have an even better one yourself, I'd love to hear from you. I answer all emails received, so if you've any stories, comments, or questions – please feel free to send them to me ([email protected]).
Click here to check out the latest Magnolia Cross Stitch kits and patterns on Amazon
'til next time – believe in yourself.
John 😌​
If you'd like more hints, tips and where to find the good deals for your stash, why not sign up to our free Cross Stitch Updates newsletter here…
Insert Custom HTML