Welcome to Our Products Page
Here at Patterns Patch we have our own growing list of cross stitch books and reports; each written by one of our in-house cross stitch experts.
We have taken subjects and topics dear to stitcher's hearts and provide clear, step-by-step, in-depth instructions to make your stitching as enjoyable and error-free as possible.
Check out our listings below: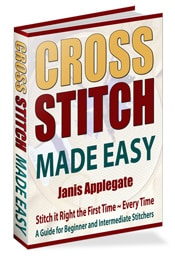 "Cross Stitch Made Easy is well written and covers everything the novice stitcher needs to get started in this wonderful craft. From the attractive cover design and layout, the brief history of needlework in the Foreward, the author's personal experiences, to the Summary; each section is designed to make the process of learning cross stitch interesting and simple."
"In 'Cross Stitch Made Easy, Ms Applegate shares tips from her experience that are only learned after years of stitching. In addition to the basics, she provides illustrations of additional stitches usually presented in patterns for advanced stitchers. Excellent!" ~ Sarah Bee, Nashville, T
How To Finish A Cross Stitch Project Like A Pro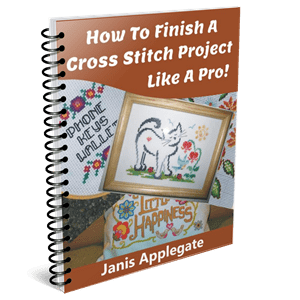 Discover the secrets and techniques used by the professionals for mounting and displaying a cross stitch piece to look its absolute stunning best.
You get nine different finishing methods clearly explained and demonstrated by Janis Applegate, best selling author of Cross Stitch Made Easy.
We regularly add new products here so please check back often.