"Never again," I said to myself over and over. I must have been out of my mind when I chose Majestic Magnolia cross stitch, a gorgeous design I simply couldn't resist. It didn't matter to me that I was still a beginner and I had never stitched on linen. I thought I could tackle any project.
Today, it's my crowning achievement, one that would take five long years and several trips around the globe to complete.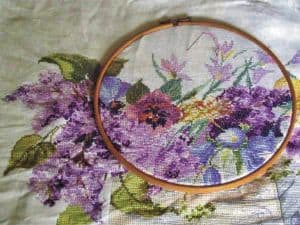 The chart is barely legible anymore; faded, with coffee stains and who-knows-what-else. I saved it anyway.
The magnolia with its creamy white blooms and dark lustrous leaves is a statement of cross stitch beauty, even prettier that I originally imagined it.
But, what a love-hate relationship we've had.
"Never again," I repeated, too many times to count. This project wreaked havoc with my emotions, from tears of frustration and disappointment, to an incredible sense of pride and joy in the finished piece.